The Issues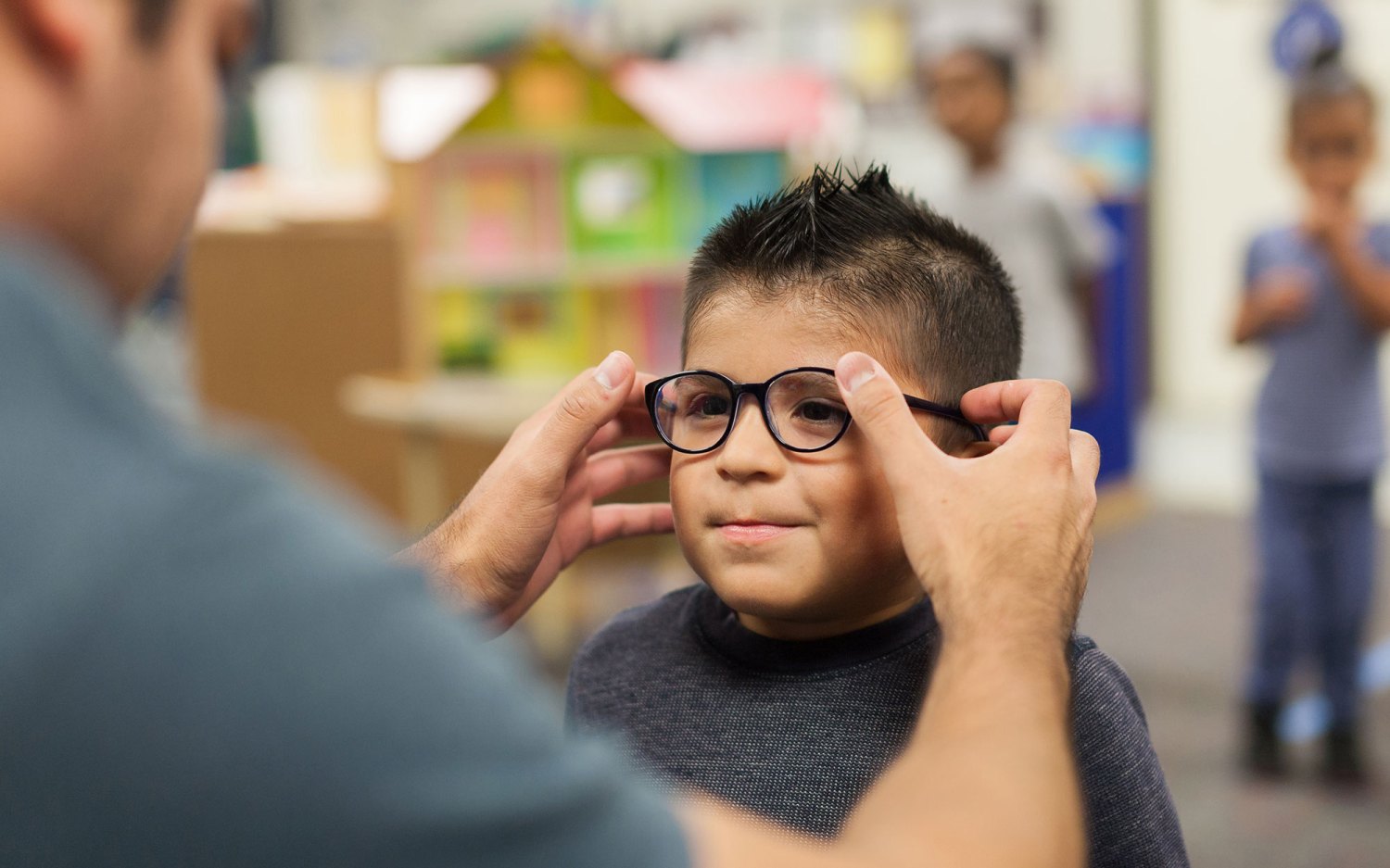 Looking at the numbers of childhood blindness…
The prevention of avoidable visual impairment will be achieved only if effective, comprehensive eye health-care services are integrated into well-managed, well-monitored national health systems.
STRABISMUS // CROSSED EYES
Strabismus is a lack of alignment between both eyes. Both eyes cannot focus on the same object at the same time.

According to the Boston Children's Hospital, strabismus can affect between 2-4% of the population. Vision loss can be avoided if found and treated early. Read more here.
MYOPIA // NEARSIGHTED
Myopia is when objects are seen clearly when up close, but blurry when far away.

According to a 2018 Clinical Ophthalmology paper, myopia is most common in older children (~60% of the study's 17-19 year old population) but children in the study aged 5-7 reported a myopia rate of about 15%1. Early detection can prevent further complications. Read more here.
HYPEROPIA // FARSIGHTED
Hyperopia is when objects are seen clearly at a distance, but blurry up close.

A 2022 study from the Asia-Pacific Journal of Ophthalmology reported a hyperopia rate of between 2.7 – 26.3% among 5-year olds, depending on methods of measurement. The study concluded that hyperopia has a negative impact on a child's reading ability and overall academic performance, if left untreated. Read more here.2
ASTIGMATISM
Astigmatism is when vision is blurry at any distance due to a lack of a single focus caused by the shape of the cornea.

According to a 2011 cross-sectional study funded by the National Institute of Health, children 5-6 years old reported an astigmatism rate of ~9%3. Read more here.
AMBLYOPIA // LAZY EYE
Amblyopia is when vision in one eye is impaired because the eye and the brain are not working together. The brain will suppress the weaker eye and will take images from the stronger eye. If the condition goes untreated, the weaker eye may become useless.

In a 2022 Frontiers of Pediatrics paper that pulled from numerous previous studies, an overall amblyopia rate of 1.36% was reported, with a slightly higher prevalence occurring in males4. While this rate is low, screening and treatment is necessary to prevent needless vision loss. Read more here.
FAILURE TO RECEIVE FOLLOW UP
According to a 2013 study in the Journal of American Association for Pediatric Ophthalmology and Strabismus, only 46.6% of patients showed up for follow up examination after failing a visual acuity screening5. While the sample size in this study is small, it represents a worrying trend. Follow up examination is crucial to getting your child the right treatment and preventing more serious eye conditions. Read more about follow up exams here.
GLASSES HELP ACADEMIC PERFORMANCE
The International Agency for the Prevention of Blindness reports that glasses can reduce the odds of failing a class by 44%6. This does not account for the benefits to safety and general wellbeing that glasses and proper eye treatment can give to young children. Read more about how glasses will help your students here.
BLINDNESS CAN BE AVOIDED
The IAPB also estimates that 40% of child blindness could have been prevented or managed if the child had accessible eye care services7. Read more about how childhood blindness can be avoided here.
---
REFERENCES
1. Theophanous C, Modjtahedi BS, Batech M, Marlin DS, Luong TQ, Fong DS. Myopia prevalence and risk factors in children. Clin Ophthalmol. 2018 Aug 29;12:1581-1587.
2. Mavi, Sonia BSc; Chan, Ving Fai MSc, PhD; Virgili, Gianni MD, MSc; Biagini, Ilaria CO, MSc; Congdon, Nathan MD, MPH; Piyasena, Prabhath MBBS, PhD; Yong, Ai Chee BOptom (Hons), MPH; Ciner, Elise B. BS, OD; Kulp, Marjean Taylor OD, MS; Candy, T. Rowan BSc (Hons), PhD; Collins, Megan MD, MPH; Bastawrous, Andrew MBChB, PhD; Morjaria, Priya MSc, PhD; Watts, Elanor BMBCh, MSc; Masiwa, Lynett Erita BSc Optom, MSc; Kumora, Christopher BOptom; Moore, Bruce OD; Little, Julie-Anne MOptom, PhD. The Impact of Hyperopia on Academic Performance Among Children: A Systematic Review. Asia-Pacific Journal of Ophthalmology: January-February 2022 – Volume 11 – Issue 1 – p 36-51.
3. Roberta McKean-Cowdin, Rohit Varma, Susan A. Cotter, Kristina Tarczy-Hornoch, Mark S. Borchert, Jesse H. Lin, Ge Wen, Stanley P. Azen, Mina Torres, James M. Tielsch, David S. Friedman, Michael X. Repka, Joanne Katz, Josephine Ibironke, Lydia Giordano,
Risk Factors for Astigmatism in Preschool Children: The Multi-Ethnic Pediatric Eye Disease and Baltimore Pediatric Eye Disease Studies,
Ophthalmology; Volume 118; Issue 10; 2011.
4. Hu B, Liu Z, Zhao J, Zeng L, Hao G, Shui D, Mao K. The Global Prevalence of Amblyopia in Children: A Systematic Review and Meta-Analysis. Front Pediatr. 2022 May 4;10:819998.
5. Zhuo Su, Elizabeth K. Marvin, Bing Q. Wang, Tavé van Zyl, Maxwell D. Elia, Esteban N. Garza, Daniel J. Salchow, Susan H. Forster,
Identifying barriers to follow-up eye care for children after failed vision screening in a primary care setting, Journal of American Association for Pediatric Ophthalmology and Strabismus, Volume 17, Issue 4, 2013.
6. Hannum E, Zhang Y. Poverty and Proximate Barriers to Learning: Vision Deficiencies, Vision Correction and Educational Outcomes in Rural Northwest China. World Dev. 2012 Sep 1;40(9):1921–31.
7. Burton MJ, Ramke J, Marques AP, Bourne RRA, Congdon N, Jones I, et al. The Lancet Global Health Commission on Global Eye Health: vision beyond 2020 [Supplementary appendix 1]. The Lancet Global Health. 2021 Apr;9(4):e489–551.
8. Yorston D. The global initiative vison 2020: the right to sight childhood blindness. Community Eye Health. 1999;12(31):44-5.
9. Matthew J Burton, Jacqueline Ramke, Ana Patricia Marques, Rupert R A Bourne, Nathan Congdon, Iain Jones, Brandon A M Ah Tong, Simon Arunga, Damodar Bachani, Covadonga Bascaran, Andrew Bastawrous, Karl Blanchet, Tasanee Braithwaite, John C Buchan, John Cairns, Anasaini Cama, Margarida Chagunda, Chimgee Chuluunkhuu, Andrew Cooper, Jessica Crofts-Lawrence, William H Dean, Alastair K Denniston, Joshua R Ehrlich, Paul M Emerson, Jennifer R Evans, Kevin D Frick, David S Friedman, João M Furtado, Michael M Gichangi, Stephen Gichuhi, Suzanne S Gilbert, Reeta Gurung, Esmael Habtamu, Peter Holland, Jost B Jonas, Pearse A Keane, Lisa Keay, Rohit C Khanna, Peng Tee Khaw, Hannah Kuper, Fatima Kyari, Van C Lansingh, Islay Mactaggart, Milka M Mafwiri, Wanjiku Mathenge, Ian McCormick, Priya Morjaria, Lizette Mowatt, Debbie Muirhead, Gudlavalleti V S Murthy, Nyawira Mwangi, Daksha B Patel, Tunde Peto, Babar M Qureshi, Solange R Salomão, Virginia Sarah, Bernadetha R Shilio, Anthony W Solomon, Bonnielin K Swenor, Hugh R Taylor, Ningli Wang, Aubrey Webson, Sheila K West, Tien Yin Wong, Richard Wormald, Sumrana Yasmin, Mayinuer Yusufu, Juan Carlos Silva, Serge Resnikoff, Thulasiraj Ravilla, Clare E Gilbert, Allen Foster, Hannah B Faal; The Lancet Global Health Commission on Global Eye Health: vision beyond 2020; The Lancet Global Health; Volume 9, Issue 4; 2021.